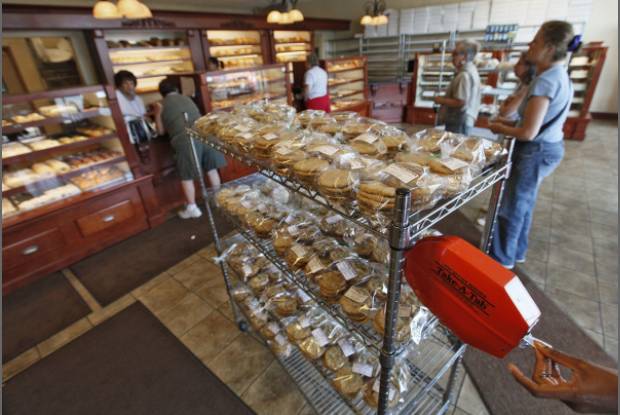 07 Jul

Generations celebrate centennial of family-owned Resch's Bakery, founded by German immigrants

By  Mary Vanac
The Columbus Dispatch Thursday July 5, 2012 5:21 AM
Like many customers of Resch's Bakery, Mary Capehart has been a regular for decades. And on a recent day, she was treating her grandchildren, bringing a new generation of customer into the fold.
"When I drove my daughter to Bishop Hartley, she always made me stop by Resch's," Capehart said. "I think it's a wonderful place."
Since 1912, Resch's Bakery has been a family affair. Frank Resch and his nephew, Wilhelm Resch, both immigrants from Germany, opened the bakery on the East Side of Columbus before World War I.
This year, the fourth, fifth and sixth generations of Resches — and their employees and customers — are celebrating the 100th anniversary of the family's bakery.
If you stop by on Sept. 10, the bakery's birthday, the Resches will offer you a free cupcake.
"We're doing better than ever. More customers. More volume," said Bill Resch, "Uncle Bill" to the family and the grandson of Wilhelm. Bill became a science educator rather than a baker.
Resch's Bakery is a throwback amid today's big-box stores. The bakery uses decades-old recipes to make its doughnuts, cakes and breads from scratch.
Customers notice the quality. Last month, Resch's was voted best bakery by readers of Columbus Monthly. And readers of 614 Magazine voted Resch's best retail bakery in 2010 and 2011.
Resch's also is a rarity among small businesses. Between 3 and 5 percent of family-owned businesses make it through the fourth generation, according to oft-quoted research by John L. Ward, professor and director of the Center for Family Enterprises at the Kellogg School of Management.
Is it tough to work with family? "There's a struggle sometimes, but most of the time, it's fine," said Lisa Boyer, sister of Frank X. Resch II, the bakery's owner.
"I'm not even going to get into that," Frank said with a laugh.
Resch's customers are greeted with a floor-to-ceiling mural of the "marktplatz" in Miltenberg, Germany, hometown of the late Ida Resch. They take numbered tickets from a dispenser and stroll along a row of cherry cabinets carved by a family friend to make their choices.
"Number 45," called one of the workers one recent day. A family of four moved to the counter and placed an order for two glazed doughnuts and two cake doughnuts. The little boy propped his arms on the counter and grinned.
"Some customers remember the free doughnut holes that we give," Lisa Boyer said. "They want to come back for that memory. It's part of our legacy."
So are Granny Rolls. "Everybody loved the cinnamon rolls. Ida Resch, my mother, said, 'Why don't you put glazed pecans and some icing on top?' That was a great idea," Bill Resch said.
"A lot of customers say they started coming here with their grandparents, or they came with their parents when they were kids," Frank said. "That always brings a smile. It's drudgery some days. But those comments make it all worth it."
Co-founder Wilhelm Resch grew up on a farm outside of Neiderwinden, Germany. He was the second-oldest son of Franz and Theresia Resch, so he didn't stand to inherit the farm, Bill Resch said.
"In the early part of the 20th century, inflation in Germany was so high, they used to say it took a wheelbarrow full of money to buy a loaf of bread," he said.
Seeking a better life for himself and his family, Wilhelm immigrated to America in 1906 and joined his father's brother, Frank, at a watch factory in Rochester, N.Y. Soon, the two quit their jobs and headed for Columbus and the city's German community.
The Resches went to work at Berkey's Bakery and learned the baking trade. One day, as Bill Resch tells the story, Mr. Berkey overheard the two talking about opening their own bakery some day.
"You ungrateful immigrants," Berkey is said to have told them. "You're fired!"
So in 1912, the Resches "built a little store on the outskirts of Columbus and started making bread out of their home," Bill Resch said. The family lived in an apartment above the bakery at 1029 E. Livingston Ave.
Wilhelm went back to Germany to retrieve his wife and two children. All of his and Amalia's children — Frank X., Wilhelmina and William (born in America) — worked in the bakery.
During the 1940s and 1950s, Frank X., his wife, Ida, and their children, Frank J., Stephen, Gretchen, Bill and Martha, worked in the bakery.
Wilhelm retired shortly after World War II, and sons Frank X. and William carried on the family's baking tradition. "Quality is our best product" was their slogan.
In 1957, Frank X. bought out William, building the bakery's current location in the early 1960s.
Frank J. Resch, who had worked in the bakery before a six-year stint as an Air Force pilot, took the helm in 1959. He and his brother, Stephen, and his wife, Geraldine, worked in the bakery.
In the 1980s, Frank J.'s children, Frank X. II, Lisa and Tom became the fifth generation of Resch bakers. Stephen and his wife, Brenda, closed the old bakery in the 1990s. Now, there's only one location.
Frank X. II and his sister, Lisa, run the bakery today with several employees who have worked there for more than 30 years.
"I started working at 13 years old," Lisa said. "As a little girl, I would sit on the counter and fold boxes."
She and Frank X. II lost their brother, Tom, in late 2009, and father, Frank J., in 2010, as the family business was planning its centennial.Frank J. was proud that his grandchildren, Frank J. II, Michelle, David, Zac and Alex, work in the bakery, too, Frank X. II said.
"Christmas is a lovely time, even though we work so many hours" making springerle, vanilla sticks and thumbprint cookies, Lisa Boyer said. "Our father taught us to be hard workers."
The Resches "are shining examples of what you can accomplish if you dream, work hard and pursue excellence," state Rep. Tracy Maxwell Heard, D-Columbus, said in a recent commendation.
"The success of their small business is a continued reminder of why America is a great country that has the components for any individual to succeed."
mvanac@dispatch
maryvanac@twitter.com