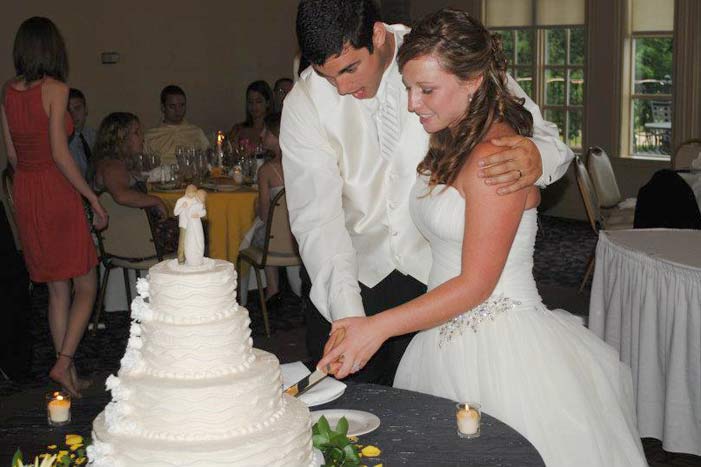 14 Jul

THE FATHER: Big Question Wedding Cakes Columbus

As the summer winded down in August, I realized it was high time that I ask Kaleigh's father for permission to marry his daughter.  I was dreading the situation, because I imagined being a father to a daughter of my own, and I would never feel like any man could be qualified enough to take her away from me. I could only imagine how her father would feel.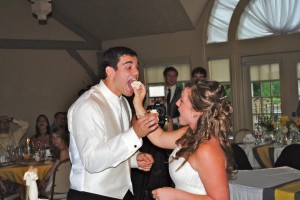 I tried to grasp the reality of the situation by imagining him holding her two-year-old hand as she wobbled down the path in a nearby park.  He taught her to walk.  I imagined her wearing an oversize helmet while slowly pedaling her new pink bicycle with tassels on the sides as her father ran alongside her, aiding her along the way: "Don't turn too fast!  Pedal faster and you'll get it!"  He taught her how to ride a bike.  He also took great pleasure, I'm sure, while teaching her how to drive a car.  Her father is a car aficionado, so there's no question that he remembers in detail her driver's education.
In light of these few moments of fatherhood, I understood that she was unquestionably his and not mine.  I didn't stand a chance, so I knew my approach was an undeserving and bold request.
I thought it would be a good idea to find something her father enjoyed doing and do it with him.  Being a car guy, he loves to clean and wax cars.  His family laughs about his meticulous efforts towards his automobile's beauty because he uses toothbrushes to fine tune the shine.  That's not a joke.  For his birthday, his mother gave him a "bouquet" of old toothbrushes held together by a rubber band.
I asked Kenny, her father, if he would teach me how to wax my car, since he was the master waxer.
"I'd love to!" He replied.  "When can we do it?"
I knew Kaleigh had a class to go to for work during the evening, so I scheduled it during the time she was gone.  My plan was to guide the conversation to the "Kaleigh archives" of his mind by asking questions about her being a child, and the time he spent with her.
Unfortunately, the conversation proved more difficult than planned.  Kenny is the type of guy that can talk about anything for as long as he wants without stopping.  He's incredibly social.  I could not for the life of me keep the conversation on track, because he would answer one question and then lead into another subject, and then something else.  By the time I continued my questioning, I was five subjects behind the current one.
Kaleigh was coming home soon, so I had to make my move, otherwise I would regret such a perfect opportunity to ask.  I mustered up all the courage I had and nervously began to speak.  It felt as though I was vomiting out my sentences.  "Well, Kenny, it's very obvious you love your daughter, and I love her, too.  So now I have a bold question for you—"
He stopped in the middle of step four of his patented wiping process (step 1: apply wax vertically; step 2: wipe wax off with towel; step 3: wipe remaining wax off with new towel; step 4: deftly spray water on the new wax for penetration; step 5: wipe off water with different towel).  Holding the spray bottle in his hand and the dirty rag in the other, he smiled and said, "Yeah?  What is it?"
"I want to know if I can have your permission to have your daughter's hand in marriage…"
Immediately, without considering the severity of the question (or so it seemed) he responded, "You know you got it!"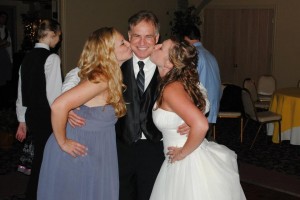 I couldn't hold back a smile even if I was tortured at that moment.  He went on to describe how he enjoyed the two of us being together, and that even though he was concerned when we began dating and risking our lives (much to his chagrin) he thought we were perfect for each other.  He said he had no idea that I would ask him here, "but, Karen had thought you might ask…but, you know women!"
I asked him if he ought to tell Karen, what just happened.  He went inside.  "Karen, come check out this wax job."
Karen walked out to see the shiny new car.  Cars are not necessarily her forte, but since she loves her husband she praised his work and said it looked good.
"Well, honey, it turns out your preconception about this wax job was right."  He smiled and looked at me.
Karen stood confused for a moment, but when she saw me grinning from ear to ear, she knew exactly what was going on.  Kenny filled her in while she hugged me approximately five consecutive times.
We didn't have much time to celebrate the occasion, because Kaleigh would be back soon.  I quickly filled them in on my plans and how everything will happen from picking her up to the Park of Roses.  I told them they couldn't say a word to Kaleigh about what just happened and they agreed.
Karen, who wears her heart on her ten-foot sleeve, knew she had to come up with an act.  She said she'd either have to be seething about something at work, or else she would be too giddy.
"Ok, guys, when Kaleigh comes I'm going to be cold and grumpy…but I don't mean it!"
Kaleigh came home and we hung out as usual: sitting down and relaxing after a long day like an elderly country couple on their front porch.  Her mom was an excellent actress, and played her part perfectly.  Kaleigh's dad had no problem being himself.  It literally seemed like he forgot about the entire thing.  I told Kaleigh that her brother was around the whole time (eliminating the chance for a serious, personal conversation), and that we didn't talk much because we were working on the car.
She bought it.  My plan was coming together.
By: Joe Huddle